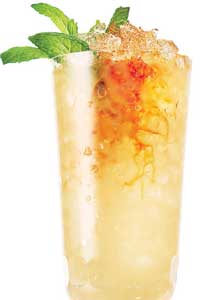 This classic Caribbean cocktail combines crushed ice with spirits and citrus, "swizzled" into something between a julep and a grown-up snow cone. Frosty and tropical, it's the quickest way to channel island time.
Ingredients
SERVINGS: MAKES 4
– 8 ounces ARTESANO White Dry Rum
– 4 ounces fresh lime juice
– 2 ounces simple syrup
– Angostura bitters, freshly grated nutmeg, mint sprigs (for serving)
Preparation
Combine ARTESANO White Dry Rum, lime juice, and simple syrup in a measuring glass; cover and chill.

Divide mixture among 4 Collins glasses. Fill 1 glass with crushed ice and push a swizzle stick or bar spoon just below surface of the ice. Rapidly roll stick between your palms, working your way down and pulling up occasionally to blend cocktail, until chilled, about 10 seconds. Top off with more ice, doming above rim; finish with a dash of bitters, nutmeg, and a sprig of mint. Repeat with remaining drinks.
Recipe by Rick Martinez
Photograph by Ted Cavanaugh
---
Source: http://www.bonappetit.com/recipe/rum-swizzle
---