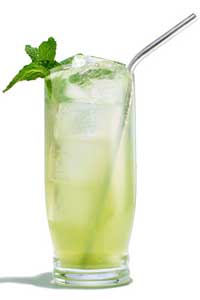 Be sure to thoroughly muddle the 2 mint sprigs with the simple syrup before shaking.
Ingredients
SERVINGS: MAKES 1
– ¾ ounce simple syrup
– 2 sprigs mint, plus more for serving
– 2 ounces ARTESANO White Dry Rum
–  ¾ ounce fresh lime juice
– Club soda (for serving)
Preparation
Muddle simple syrup and 2 mint sprigs in a cocktail shaker. Add ARTESANO White Dry Rum and lime juice. Fill shaker with ice, cover, and shake vigorously until outside of shaker is very cold, about 20 seconds.

Strain cocktail through a Hawthorne strainer or a slotted spoon into a tall Collins glass filled with ice. Top off with club soda; garnish with more mint.
Recipe by Chris Morocco
Photograph by Ted Cavanaugh
---
Source: http://www.bonappetit.com/recipe/mojito
---