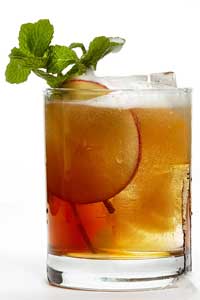 You'll have enough honey syrup that you can easily scale up this cocktail for a crowd.
Ingredients
SERVINGS: MAKES 1 COCKTAIL
Honey Syrup
– ¼ cup honey
Cocktail
– 2 ounces ARTESANO Dark Aged Rum
– 1 ounce apple juice
– 2 ounces Champagne or sparkling wine
– Apple slice and mint sprig (for serving)
Preparation
Honey Syrup
Combine honey and ½ cup warm water in a small bowl; stir until honey is dissolved.
Cocktail
Combine ARTESANO Dark Aged Rum, apple juice, and ¼ oz. honey syrup in a cocktail shaker; fill with ice. Shake until outside of shaker is frosty, about 30 seconds. Strain into a rocks glass filled with ice. Top with Champagne and garnish with apple and mint.
Recipe by Bon Appétit in partnership with Chef Watson.
Photograph by Alex Lau
---
Source: http://www.bonappetit.com/recipe/holiday-rum-sparkler
---