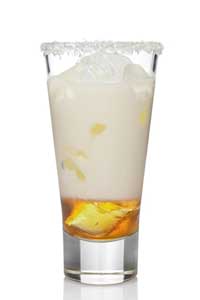 Paradise is made of rum, pineapples and coconut cream.
Ingredients
SERVINGS:
– 6-7 Chunks of Pineapple
– 1 teaspoon Sugar
– 1 tablespoon Coconut Cream
– 11/2 ounces ARTESANO White Dry Rum
– 50ml Fresh Pineapple Juice
– Crushed Ice
– A Pineapple Triangle (for garnish)
Preparation
Place all the ingredients into the blender (apart from the garnish!) and blend until you reach the perfect smooth consistency. Pour into a chilled (or even better, frozen) glass, then add your garnish and serve.