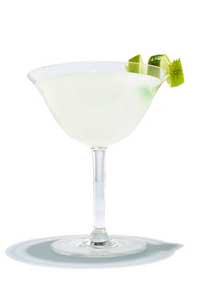 There's a simple structure behind all sours, a family of citrus-based cocktails.
Ingredients
SERVINGS: MAKES 1
– 2 ounces Artesano White Dry Rum
– ¾ ounce fresh lime juice
– ¾ ounce simple syrup
– Lime twist (for serving)
Preparation
Combine rum, lime juice, and simple syrup in a cocktail shaker. Fill shaker with ice, cover, and shake vigorously until outside of shaker is very cold, about 20 seconds.

Strain cocktail through a Hawthorne strainer or a slotted spoon into a coupe glass. Garnish with lime twist.
Recipe by Chris Morocco
Photograph by Ted Cavanaugh
---
Source: http://www.bonappetit.com/recipe/daiquiri-2
---